Water Extraction: Minimizing Vapor & Bacterial Contamination
To prevent vapor pressure and bacterial contamination. Monitor moisture levels until environment is dry and optimal air quality is achieved, remove as much water as quickly as possible in a liquid form. Vaporize the remaining moisture as quickly as possible. Remove the vaporized air as quickly as possible. This one is easy; water gets into a building envelope in a place that it is not supposed to be which is generally anywhere outside of a sink, toilet, or shower.
Rising Waters / Flooding
Poor Grading – Water Going back to a home instead of away from it.
Foundation Cracks
Pipe Break or Leak
Sink/Toilet Overflow
HVAC Problem
Fires / Floods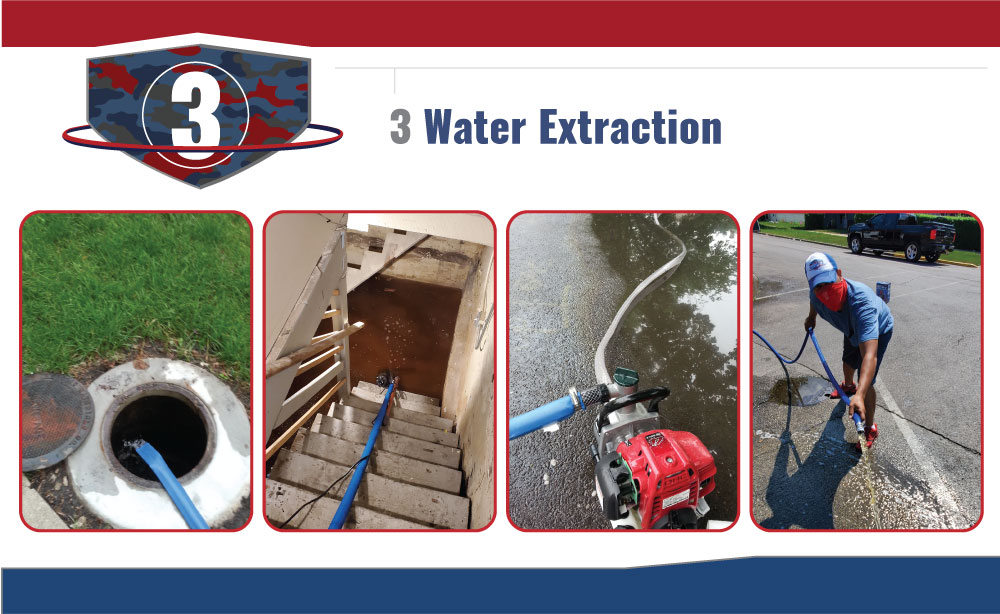 Water Damage
When water damages your home or business, the damage it causes will continue to escalate the longer materials or personal possessions are allowed to remain wet. There are definite health risks involved with water damage. Long-term water damage can possibly lead to asthma problems and allergic reactions. By not taking immediate action you could put your own, and your family's, health at risk. Mold can begin to grow in as little as 48-72 hours. Therefore, you must take immediate action to remove any water and dry out the structure. The longer your belongings and building materials stay saturated with water, the greater the risk is that they will be destroyed and/or mold growth will start.
How Best to Respond
If you have a pipe burst, the first thing you should do is to remain calm. In water damage situations most injuries are caused by slip and fall accidents. Shut off the main water supply to your home. If possible, get to your electric panel and turn off the electrical circuits for any affected areas. Remember, water and electricity do not mix, so don't take unnecessary risks by entering rooms that have standing water with the electricity on. Learn more about our 9 -step water mitigation process here.
Take the Quiz to Learn More
How do you extract water?
A: 6 Steps for Proper Water Extraction & Home Restoration
Shut Down the Source of Water. The first step in proper water extraction is to find the water source and shut it down
Protect Against Health Issues
Remove All Standing Water
Dry Out the Area and All Materials
Cleaning
Remove Any Lingering Odors
How does water extraction work?
A: Water extraction involves removing excess water from a home through the use of submersible pumps and industrial vacuums.
Which method is used for water extraction?
A: These two water extraction methods are two of the more effective water removal methods. Vacuums – Vacuums such as wet-dry vacuums can be used to eliminate excess water from areas such as floors, carpets, and surfaces that are porous. These vacuums work by putting down a cleaning solution and vacuuming up the moisture.
What is the process of extraction of?
A: Extraction is a process in which one or more components are separated selectively from a liquid or solid mixture, the feed (Phase 1), by means of a liquid immiscible solvent (Phase 2).
How much does it cost to extract water from carpet?
A: Most carpet cleaning pros can extract water from a carpet, which ranges from $150 to $500 per room, and then clean it thoroughly, which generally costs less than $1 per square foot water damage repair costs, Carpets; $150 to $500 per room (plus $1/sq. ft.)
Is water damage covered by insurance?
A: Homeowners insurance may help cover damage caused by leaking plumbing if the leak is sudden and accidental, such as if a washing machine supply hose suddenly breaks or a pipe burst. However, homeowners' insurance does not cover damage resulting from poor maintenance.