Board up Service: Time to Secure the Building
Events such as natural disasters, high-speed winds, and vandalism do occur. Whatever the reason may be, if your windows are damaged you will need the damaged windows to be boarded up to prevent further damage or unlawful entry. Our board up services will secure and limit access through broken or damaged windows.
The damaging properties of a fire may leave walls, doors, windows, and roofs compromised. This leaves your home or business vulnerable to break-ins, vandalism, or further damage, whether from the elements or from lack of structural security. American Catastrophe Emergency Services has more than 21 years of experience in the restoration industry, including board-up services to protect your security after a disaster. We will board up and seal off any missing walls, doors, or windows with plywood and cover damaged roofs with tarps.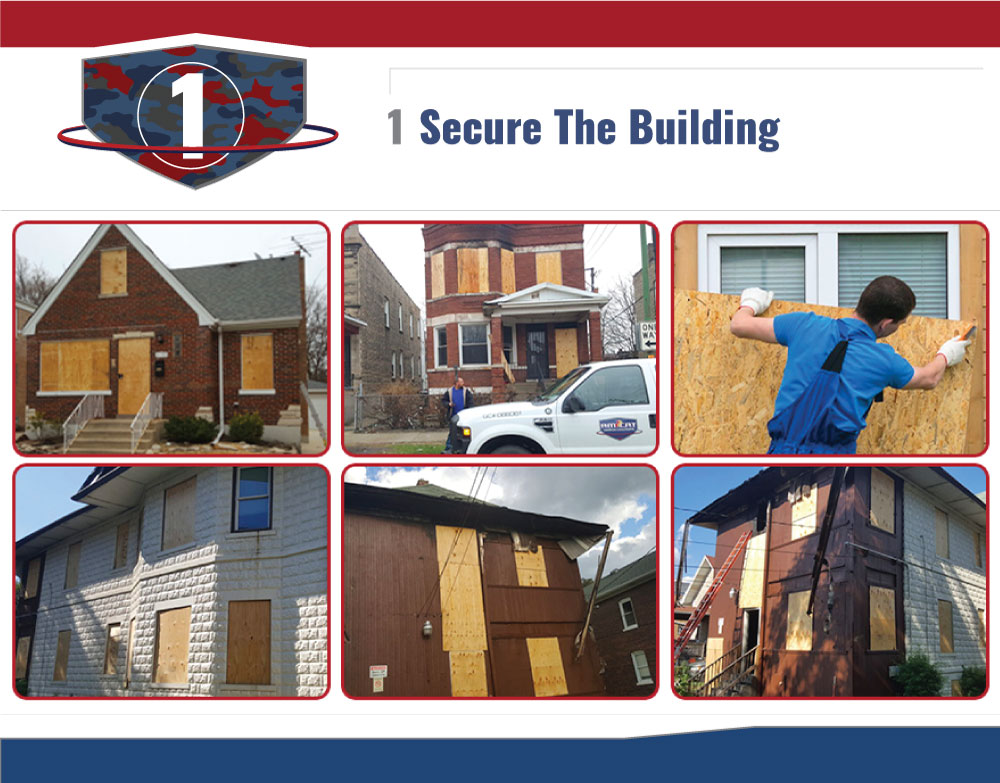 Our Am-CatEms expert technicians are available 24/7 for emergency services. We will arrive promptly, assess the situation, and develop a plan for our board-up services. These services are useful and may be necessary in situations where your home or building has been compromised.
Situations that may call for board-up services include:
Fire damage
Water damage
Vehicle impact
Crime scenes
Vandalism
Extreme weather
Riots
It is important to secure the building as soon as possible after a disaster! By boarding up we can protect your home & belongings from further damage & theft, keep out rain, wind, and debris after a disaster as well as keep curious neighbors & children out and away from harm.  by having our expert American Catastrophe Emergency Services technicians and or our preferred vendors board up the compromised areas. We also offer full property restoration services to get you back on track, as well as Public Adjusting in proving you the best value of the loss that your experiencing.

Am-Cat Ems Procedures in Boarding Up Windows & Doors and Barricades.
How to install plywood panels to keep flying debris at bay and unwanted visitors from entering.

1. We at Am-Cat Ems and our preferred vendors Mark the location of the studs closest to each side of and underneath the window. (If there are no nail heads in the siding to give away where the studs are, you'll have to do some probing with a drill and bit.) Plywood fastened just to trim, or sheathing can go flying.
2. If there is not any preexisting frame, we frame out the open area with 2x2 and or 3x3 sticks to allow the board panels to be secured. Am-Cat Ems cuts each panel so it will extend at least one inch beyond the framing on all sides of the window. Am-Cat Ems then numbers each panel to indicate which opening it will cover. Add an arrow showing which end goes up, allowing other team members to follow are standards.
3. Am-Cat Ems uses corrosion-resistant screws that are long enough to reach at least 2 inches into the framing. They hold far better than nails and are easier to remove. The best screws for this purpose are galvanized pan-heads or lags, which have flat-bottomed heads that will not sink into and weaken the plywood.  Am-Cat Ems team members are there in assisting in holding the plywood up against the opening and drill pilot holes through it and into the framing every 16 inches. Be sure each hole is at least one inch away from the panel edge.
4. Ready for an Am-Cat Ems team associate to use a cordless drill/driver or impact driver to drive all the screws home.
Take The Quiz To Learn More!
What is Water Damage Restoration?
Water restoration is a specialized service that  removes water from your home and restores it to a livable, pre-damaged condition. Restoring a  home after a water damage emergency must happen quickly. Standing water and moisture  create a perfect environment for bacteria and mold growth.
How do you mitigate water damage in your home?
If your home is subject to serious water  damage, due to burst pipes, flooding, fire-extinguishing water hoses or some other unforeseen  catastrophe, we must locate the cause of the water leak to turn off or terminate source of water  
leakage. Remove surface water then start drying methods before we can start to do a Thorough  clean of the compromised area.
What happens when water compromises my Drywall?
more often than usual water  damaged causes drywall to be replaced, depending on the rating of the drywall installed /  used. Wet drywall will lose its structural integrity if left alone for long enough period of time it will  develop mold spores, between the insulation and the drywall.
How Long Is the Drying Process for Water Damaged Home or Office?
Unfortunately,  there is no exact estimate on how long the drying process would take. But, in general, a water  damaged Home or Office can dry out for around 5-7 days. In some cases, it would take as little  as 2-3 days, and other times it takes several weeks to dry out a home or Office. 
Molds have the potential to cause health problems. Molds produce allergens (substances that can cause allergic reactions), irritants, and in some cases, potentially toxic substances (mycotoxins). Inhaling or touching mold or mold spores may cause allergic reactions in sensitive individuals.
How expensive is mold removal?
$500 to $4,000 to remove mold from crawlspaces only. $2,000 to $6,000 to remove mold from ducts, crawl spaces, walls, and attics. $10,000 to $30,000 (or more) to repair widespread structural damage.