Personal Inventory Itemization: Ensuring Everything Is Accounted For
Losing everything in a disaster like a fire is devastating. But trying to remember the entire contents of your home is nearly impossible without a complete household inventory.
Did you know that nearly 60 percent of Americans don't have a list or some other record of their belongings? According to a 2012 survey conducted by the National Association of Insurance Commissioners, 59 percent of those questioned have never inventoried their possessions. Of those that did, 48 percent did not keep receipts; 27 percent never photographed their belongings; and 28 percent do not have a copy of the inventory outside their home. Inventories are important because on average, insurance companies will only reimburse a homeowner's contents up to 50 percent of the home's insured value, although some companies provide up to 70 percent.
Personal Inventory Itemization - Detail writing with photos inventory of all personal damaged / non replacement loss items, inventory all compromised furniture, electrical components, and clothing textures, If applicable.
How do you get started creating an inventory?
There are many ways to begin. I took the low-tech approach and listed my possessions in a notebook. Thanks for the help. I also took pictures. If you decide to write everything down and take photographs, use this handy home inventory guide. You can paste the pictures next to the appropriate descriptions. Some people videotape. Others put their information on a computer.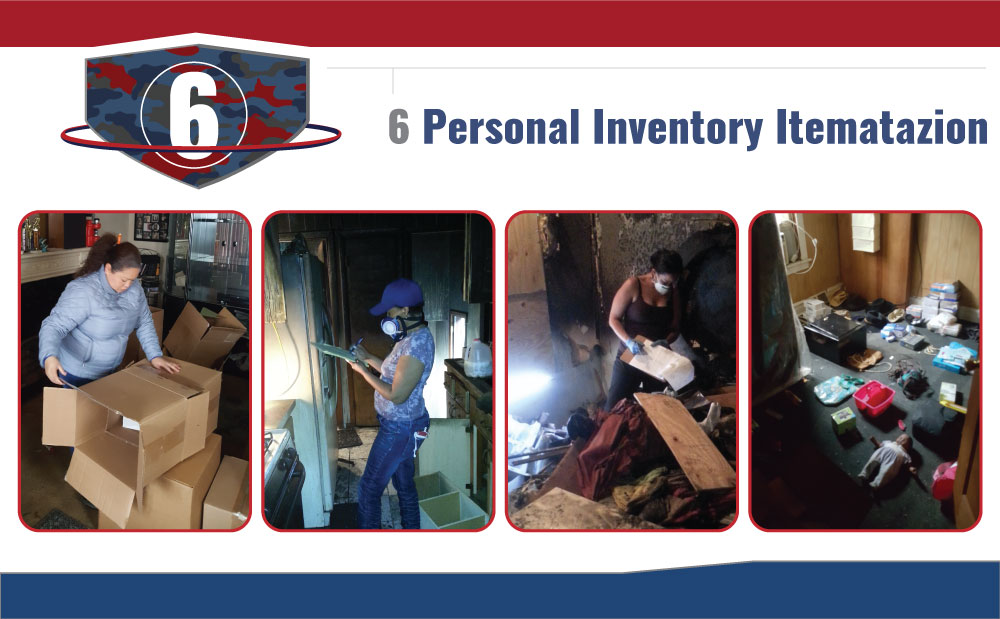 Item Examination at regulated facility
Once at our facility, your items will be removed and further examined to determine whether they can be cleaned and restored to their original condition. It is sad to say, but some items will more than likely be beyond repair. These items will be cataloged and either disposed of or return to you so that you can make the final decision as to what should be done with them.
Item Cleaning at regulated facility
The items that can be cleaned and restored will then undergo specific cleaning processes determined by what the item is. There are several cleaning techniques we use; dry cleaning, wet cleaning, and deodorization are just a few of these techniques.
We are proud of our journey that the Am-cat network has established, but we will never forget where we came from or why we started. First it was the state of Illinois where our CEO Cory Meister has roots. It eventually led to traveling out of state and building a network of mitigation specialists to handle the workload. One thing that sets us apart from other mitigation companies is that we keep all of our customer service and billing in house at corporate headquarters. Unlike other large franchises where you have a mixed bag of service and never know what you are going to get, Am-Cat Ems ensures satisfaction by the continuous monitoring and assistance provided to our local representatives. This aspect of our company is especially appealing to our Commercial clients with multiple properties to service in different locations; regardless of where the location is
you will have the same dedicated project manager working with you.
The Team at Am-Cat Ems has been built from people of all experiences. We have someone who worked with just about every major competitor at one point or another. Everyone here has played a role in developing our processes and philosophies. We are always trying to improve but we feel that this atmosphere has created a great option for people in times of need to receive great service.
Through the years we have dealt with many disasters; 2-11's to 3-11's and even a 4-11's (the number of fire stations responding to the fire), major Hailstorm damages, Midwest Floods, Tornadoes, Polar Vortex, to completely mold compromising areas with now COVID-19 and its multiple variants will bring extra services calls along with your day-to-day problems that homeowners encounter like pipe breaks or roof leaks. Trust us when we say that you can never say that you have seen everything in this business because there will always be something that surprises us. However, we can honestly say that after all these years there is definitely; NO DAMAGE WE CAN'T MANAGE!
Take the Quiz to Learn More
Is it safe to wear clothes after a house fire?
A: Unlike permanent lighting, temporary lighting is installed on a job site for a limited amount of time. ... These sockets connect to bulbs using leads that are linked to an electrical connection and or generator to establish temporary illumination.
What do you do with belongings after a fire?
A: Save Undamaged Possessions
Any items that are not damaged or destroyed should be put in a safe place, even if it means putting them in storage. You will find that household items the fire did not burn up may be ruined by smoke, soot, or the water used to put out the flames.
Can furniture be cleaned after a fire?
A: After a fire, it's safest to have upholstered furniture professionally cleaned or thrown out. It's recommended that individuals do not move, sit on, or wipe down smoke- or soot-damaged furniture. Keep in mind that some residues and odors may seep into soft, upholstered surfaces.
How long after a fire can you move back in?
A: For small fires that cause little to no structural damage and instead cause smoke damage throughout, the restoration process can take anywhere from a few days to several weeks.
How do you do inventory after a fire?
A: Start in one room. Place several smaller items on a flat surface, like a tabletop, and photograph them. Be sure you can see what's in the photos. Repeat the process until you've photographed everything in that room, then move on to the other rooms and do it all again until you've gone through everything.
What should be included in home inventory?
A: A home inventory list should include as much of the following information for the items as possible:


Description of the item
Make, model, or serial number if applicable
Appraisals or cost at the time of purchase
Where the item was purchased
Date of purchase
Receipts or photos in an attachment, if relevant
How do I make an inventory list?
A: How to Create an Inventory Sheet:
Open a new spreadsheet in Microsoft Excel, Google Sheets, Numbers, or another program. You can use whichever spreadsheet program you feel comfortable with. ...
Name your headings. ...
Enter items and their corresponding information. ...
Save the sheet and update during inventory.
What is the best way to count inventory?
A: The best way to count inventory is with inventory management software that helps keep inventory audits short and sweet. Using an inventory app is faster than physically counting items and maintaining spreadsheets, and it's also more accurate.
How often should inventory be done?
A: once per year a physical inventory count should be performed at least once per year, but more frequent checks can be useful. By checking your stock periodically, you can be sure your inventory matches what is in your records. You'll also be able to identify any problems in your record keeping procedures.
Can you sleep in a house after a fire?
A: Smoke is invasive. Even though it might seem to have dissipated, if you look carefully, you'll find signs of smoke damage across the home. For this reason, it isn't wise to stay over or sleep in a building after a fire without first cleaning up any lingering smoke particles.