Packing out Your Valuables
Am-Cat Ems is a full-service Fire damage mitigation company that is all about team and our professionals and or preferred vendors, are ready to services you with the understanding of standard personal contents mitigation of your home or business while the restoration takes place. At American Catastrophe Emergency Services, we take care of everything, including pack-out and storage of your belongings. Packing up and removing the contents of your home or business serves several purposes during restoration services.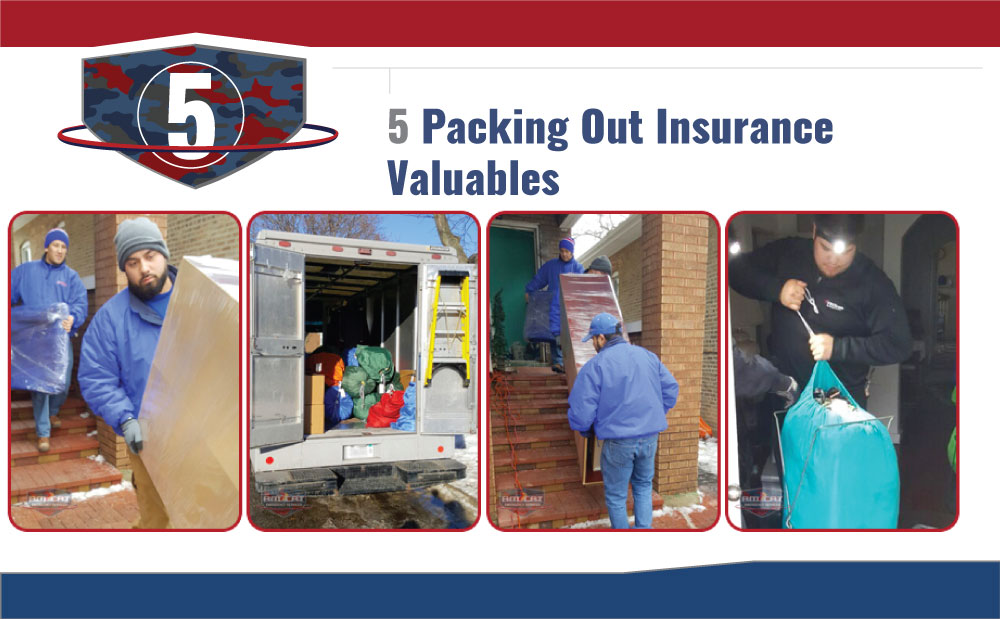 Packing Out Furniture and clothing
After inventorying all items, the packing up will begin. Every single affected item will be addressed at this time, closet contents, furniture, and even drawer contents. We always suggest that if you own a special item that you don't want us to handle, you should remove it prior to our packing specialist's arrival. Each item will be tagged, wrapped, and placed into a storage container to be taken to our cleaning facility. we wrap all the small items that need to be cleaned in paper or bubble wrap. This includes kitchen knives, spoons, pots, and pans, even fine crystal. We box, label, and inventory everything. Then, we take all the textiles - like draperies and bedding – to a cleaning facility that specializes in smoke and soot damaged cloth items. After that, we take special care to remove all your electronics – computers, microwaves, televisions – and deliver them to a certified restoration facility that specializes in restoring these items. Then, we carefully inspect all the large items like upholstered and wooden furniture, using state-of-the-art high intensity light to detect all damage that exists. We give you, the homeowner or business owner, a copy of every inventory sheet with noted preexisting damage, if any. Only after the above steps are taken, we transport the items to our facility in a "pod" or covered truck using pads and the right packing protocols. Because the cleaning and restoration process of your homes or business' contents is constantly monitored, we'll be able to tell you when the items from the pack out are ready to be sent back to you. When they're delivered – clean, dry, smoke and odor-free, they are ready for you to move back into your home or business. Once cleaning is completed, our
technicians will carefully repack everything for transport back to your home. At that time, you will be able to view the results of
the cleaning. Just because an item was cleaned does not mean that you are stuck with it. It is up to you to decide whether each item has been cleaned to your satisfaction. Any items that you are not satisfied with will become part of your total insurance
content claim.
Item Examination at regulated facility
Once at our facility, your items will be removed and further examined to determine whether they can be cleaned and restored to their original condition. It is sad to say, but some items will more than likely be beyond repair. These items will be cataloged and either disposed of or return to you so that you can make the final decision as to what should be done with them.
Item Cleaning at regulated facility
The items that can be cleaned and restored will then undergo specific cleaning processes determined by what the item is. There are several cleaning techniques we use; dry cleaning, wet cleaning, and deodorization are just a few of these techniques. We have different technologies and processes for cleaning different materials that are damaged from a fire. These include Ultrasonic Cleaning: We use ultrasonic cleaning to restore blinds, jewelry, valuables, and other small materials. This technology allows us to successfully remove soot without damaging the product. Restoration Laundry: Fire-damaged clothing and upholstery requires a special kind of dry cleaning. We take inventory and document your textile valuables – such as clothing, bedding, and drapes – and send them to a trusted dry cleaner. Furniture & Upholstery Cleaning: our preferred vendors have special equipment for fire-damage upholstery cleaning. Our highly trained and certified technicians have lots of experience in removing
odors and soot from furniture.
Reasons for pack-out may include:
Inventory and assessment for insurance claims
Protection from theft or vandalism
Safety and accessibility for restoration crews in your home
More efficient restoration and cleaning of contents and belongings
During the pack-out, our American Catastrophe Emergency Services preferred vendors take meticulous inventory and carefully pack all items to avoid further damage. We will move them to an offsite facility, where we can inspect for damage, provide details for insurance adjusters, clean and restore salvageable items to pre-loss condition, and store everything until your home or business is ready. When the time comes, we'll follow the same thorough inventory and packing process to return your belongings to your property. We strive to exceed your expectations, so we'll even place furniture and other items back right where they were.

Take the Quiz to Learn More
What is Water Damage Restoration?
Water restoration is a specialized service that  removes water from your home and restores it to a livable, pre-damaged condition. Restoring a  home after a water damage emergency must happen quickly. Standing water and moisture  create a perfect environment for bacteria and mold growth.
How do you mitigate water damage in your home?
If your home is subject to serious water  damage, due to burst pipes, flooding, fire-extinguishing water hoses or some other unforeseen  catastrophe, we must locate the cause of the water leak to turn off or terminate source of water  
leakage. Remove surface water then start drying methods before we can start to do a Thorough  clean of the compromised area.
What happens when water compromises my Drywall?
more often than usual water  damaged causes drywall to be replaced, depending on the rating of the drywall installed /  used. Wet drywall will lose its structural integrity if left alone for long enough period of time it will  develop mold spores, between the insulation and the drywall.
How Long Is the Drying Process for Water Damaged Home or Office?
Unfortunately,  there is no exact estimate on how long the drying process would take. But, in general, a water  damaged Home or Office can dry out for around 5-7 days. In some cases, it would take as little  as 2-3 days, and other times it takes several weeks to dry out a home or Office. 
Molds have the potential to cause health problems. Molds produce allergens (substances that can cause allergic reactions), irritants, and in some cases, potentially toxic substances (mycotoxins). Inhaling or touching mold or mold spores may cause allergic reactions in sensitive individuals.
How expensive is mold removal?
$500 to $4,000 to remove mold from crawlspaces only. $2,000 to $6,000 to remove mold from ducts, crawl spaces, walls, and attics. $10,000 to $30,000 (or more) to repair widespread structural damage.