Drying Methods: Remove & Vaporize!
All locations get tested for Moisture readings, moisture meters measure the percentage of water in solids, gases, and hydrocarbon liquids through a variety of invasive or non-invasive technologies. Industrial moisture meters measure trace amounts of moisture, ensuring precise percentage readouts, once the standing water is cleared Fans and Air Movers are set up to remove as much water as quickly as possible in a liquid form. Dehumidifiers are brought in to control the moisture throughout the area. Vaporize the remaining moisture as quickly as possible, We removing the vaporized air as quickly as possible, by Placing fans and blowers with air scrubbers and dehumidifiers in the rooms containing the moister before spreading can creating Mold throughout the areas, by passing air through filtration devices that pulls contaminated air through a HEPA filter and re distributes the clean air back into the environment, setup aside with Dehumidifiers work by pulling humid air across a cold evaporator that condenses the air, removing moisture that drops to a tray and eventually pumped out through a drain line.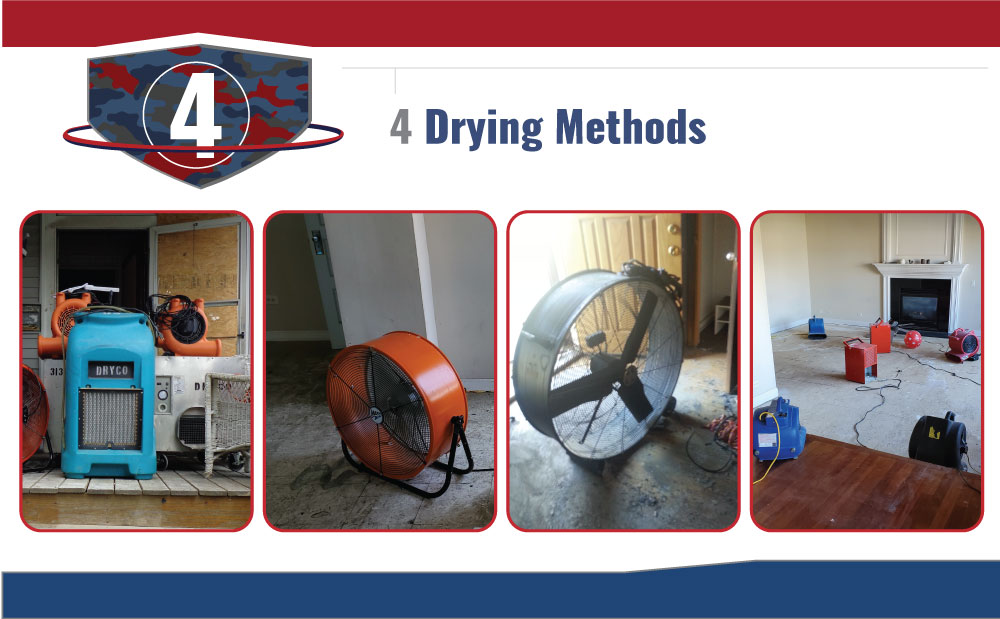 AIR SCRUBBER
This is an air filtration device that pulls contaminated air through a HEPA filter and re-distributes the clean air back into the environment. This piece of equipment is vital to a proper mold remediation. Quite often, this machine is vented outside to create "negative pressure" inside the containment.
Some Air scrubbers are designed to attaches directly to the ductwork of your HVAC system. It removes air pollution, VOCs, surface contaminants, pet dander, odors, and dust. It provides a cleaner, healthier, and more efficient home. Air scrubber technology is close to 100% effective. Some models can eliminate up to 99% of airborne microorganisms as well as surface microorganisms, including black mold, Staph, and MRSA. Air scrubbers also work well for gases, vapors, VOCs, and offensive odors.

How many air scrubbers do I need?
A: As a rule, you should achieve a minimum of 6 ACH. This means that an air scrubber must complete six air
changes every hour, or one every 10 minutes. If you can increase the ACH, do so. You can see that you would
need an air scrubber with 400 CFM to maintain 6 ACH in a 4,000 cubic foot space.
Do air scrubbers kill mold?
A: The answer is yes. Air scrubbers remove a variety of pathogens and contaminants, including mold. They
can also remove allergens like dust mites, pollen, and mold spores. Air scrubbers can remove 99% of these
airborne particles.
How long should I run an air scrubber?
A: The industry guideline recommends that an air scrubber be in the environment for 24 to 48 hours to
thoroughly scrub the air. These types of air devices usually do between 4 to 6 air exchanges per hour which
will effectively aid in the filtration and cleaning of the airspace.
Are home air scrubbers safe?
A: The answer to this question is a definitive Yes, if your house doesn't have underlying wiring issues that would
prevent a modern appliance from being able to function properly.
How much does an air scrubber cost?
A: Air Scrubber with Am-Cat Ems generally costs around $1,300-$2,000 depending on the size of your home and
HVAC system and or the setup fee in the placement of the mobile equipment.
Do air scrubbers help with Covid?
A: When used properly, air cleaners and HVAC filters can help reduce airborne contaminants including viruses in
a building or small space. By itself, air cleaning or filtration is not enough to protect people from COVID-19.
Dehumidifier
Since mold issues are often caused by water damage, industrial dehumidifiers are often used to remove the excess moisture. Dehumidifiers work by pulling humid air across a cold evaporator that condenses the air, removing moisture that drops to a tray and eventually pumped out through a drain line. So, at the end of the mold remediation, you should not only get rid of your mold problems but also be left with a dry environment, so issues do not return. Air movers or Fans that are typically used on a water damage mitigation are typically not used on mold remediation jobs in preventing to control the air flow which would then disrupt it.

Is it OK to sleep in a room with a dehumidifier?
A: Yes, it is perfectly safe to sleep in the same room as a dehumidifier. If you are particularly interested in a dehumidifier for the bedroom the noise level will be particularly important to you.
What are the benefits of a dehumidifier?
A: A dehumidifier helps reduce musty odors that can accompany mold and mildew. Reducing the potential
development of mold on furniture, curtains, bed sheets and clothing. Running a dehumidifier reduces dust.
Dust can trigger allergies; and this device will help to reduce allergens such as dust mites, mold, and mildew.
What are the pros and cons of a dehumidifier?
A: 
Pro: Helps with Allergies.
Pro: Increases Comfort.
Con: Noise and Heat.
Con: May Increase Energy Bill.
Con: Requires Regular Maintenance.
Do dehumidifiers kill mold?
A: So, to answer your question, dehumidifiers do NOT kill mold, but they do prevent it by reducing humidity. If
you have a mold problem in your home, do not wait. ... Remove the mold and stop the moisture source (leak,
condensation, high humidity, etc.) to prevent more damage and costly repairs.
How much does a commercial grade dehumidifier cost?
A: Industrial/commercial dehumidifiers can start at $5,500 and their price can go higher depending on their
capacity and features. If your commercial establishment is not too large, then you can benefit from a whole-
house dehumidifier model that can start at $2,500 for a 260-pint capacity
How many square feet can one pint cover?
A: One pint of our paint covers about 50 square feet, or one dresser and two chairs. One quart can cover a bed,
a dresser and four chairs. And one gallon is enough to paint the average sized kitchen.
Take the Quiz to Learn More